By Gina Carr with Comments 0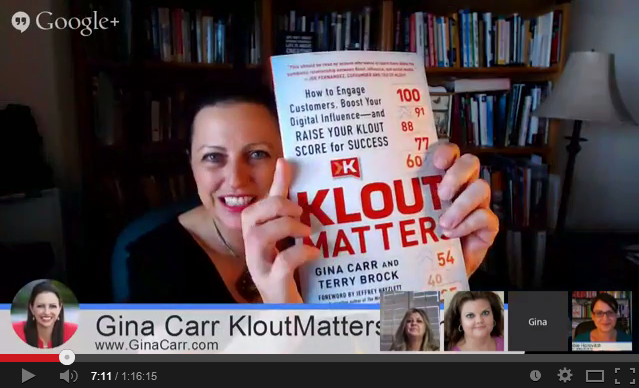 Honored to be featured recently on Debbie Horovitch's #SparkleSOS Book Authors and Publishers show.
Great discussions on:
– Sales – panelist Jane Garee of www.JaneGaree.com
– Marketing – panelist Sandi Coryell of www.thecoryellgroup.com
– Celebrity Hangouts and more – host Debbie Horovitch of http://thesparkleagency.com
– Book Writing, Marketing, and Klout – me! (www.GinaCarr.com)
To learn more about Debbie's new membership program, check out:
http://thesparkleagency.com/sparklesos/join-us/
To learn more about the book writing program I mentioned, go to:
http://bit.ly/NYbookretreat (my affiliate link)

Gina Carr works with business leaders who want to get more great reviews and fewer bad ones. A serial entrepreneur and business growth expert, she has an MBA from the Harvard Business School and an engineering degree from Georgia Tech. Gina is the co-author of the McGraw-Hill book, Klout Matters - How to Engage Customers, Increase Digital Influence, and Raise Your Klout Score for Success. Schedule a free strategy session today to learn easy ways for you to get more great reviews ... and, more great customers! www.ginacarr.com/strategy-session.

Latest posts by Gina Carr (see all)
Filed Under: Book Marketing • Klout
Comments (0)