By Gina Carr with Comments 1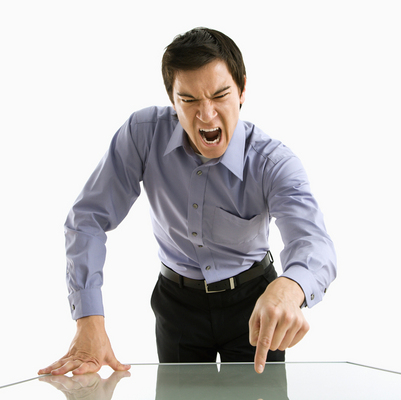 Great tribe builders know that one of the keys to building a powerful tribe is to have happy team members.  News flash: screaming does not engender happiness or loyalty.
I know first-hand from my entrepreneurial experiences of having offices full of people how important it is for everyone – especially "the boss" – to keep emotions in check.  I also know how difficult it can be.  That is why I wanted to share this article from the Wall Street Journal with you.
The article, Dealing with a Boss Who Yells, explains some of the pitfalls of having a "screamer" as a boss and some of the best ways of dealing with this type of person.
Missing from the article is the fact that the number one reason cited by many people who leave a job is that they had problems with their boss.* As the saying goes:  "Employees don't quit their companies, they quit their bosses."
Major takeaways from this article:
Pitfalls of Screaming:
Employee effectiveness is significantly diminished when yelling takes place.
Managers don't yell for fear of becoming the "star of a co-worker's cellphone videotape gone viral."  (I hadn't thought of that one!)
How to Deal avoid Screaming:
Hold short, frequent meetings with employees having problems, instead of letting the anger build into a "nuclear bomb."
Wait 24 hours before responding to a difficult situation.  (I call that "parking the issue" and have found that to be a very effective means for resolving conflict.)
What solutions have you employed to deal with a screaming boss – or to keep yourself from being one?
To read the full article in the Wall Street Journal, click here:  When the Boss is a Screamer
*According to a survey recently completed by Greg Smith of Chart Your Course International, "thirty-five percent of the respondents answered yes to the question, Was the attitude of your direct supervisor/manager the primary factor in your quitting a previous job?"
Source:  Top Ten Reasons Why People Quit Their Jobs

Gina Carr works with business leaders who want to get more great reviews and fewer bad ones. A serial entrepreneur and business growth expert, she has an MBA from the Harvard Business School and an engineering degree from Georgia Tech. Gina is the co-author of the McGraw-Hill book, Klout Matters - How to Engage Customers, Increase Digital Influence, and Raise Your Klout Score for Success. Schedule a free strategy session today to learn easy ways for you to get more great reviews ... and, more great customers! www.ginacarr.com/strategy-session.

Latest posts by Gina Carr (see all)
Filed Under: Tribe Building
Comments (1)