By Gina Carr with Comments 0

Have you jumped into the world of crypto currency yet?  This evolution in the way money changes hands is the biggest innovation since banks were invented back in Florence in the 1400's.
In the same way that the internet has changed the way we do everything, crypto currencies are going to totally change the way the world works.
If you'd like to be ahead of the curve, a simple thing that you as a business owner can do is to add a Bitcoin payment button to your online payment options for products and services.  I think this is particularly important for authors, consultants, and online product creators to add to their payment options.
Adding a Bitcoin payment option is not just a technically savvy thing to do, it can also give you a competitive advantage.  Much like the acceptance of credit cards for payment in the US back in the 1960's, people who prefer to transact using Bitcoins will be delighted to learn that you accept this digital currency.
A few weeks ago, I added a Bitcoin payment option to one of the services I provide:  my Digital Marketing Audit.  (This is where I evaluate what a business owner is doing with marketing.)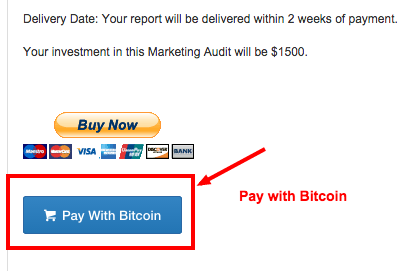 As you can see, I placed the "Pay With Bitcoin" button right under the normal "Buy Now" button that allows people to pay via traditional means – Paypal or credit cards.
It was very easy to set up using my Bitcoin wallet Coinbase.  To use Bitcoin, you need to have a digital "wallet."  This is how you exchange Bitcoin with others.  (If you'd like to set up a free Coinbase account, you might want to use my affiliate link.  I'll get a couple of coins for telling you about it.)
When a person clicks the "Pay With Bitcoin" option, they are asked for their email address and then they see a screen like this that prompts them to use the QR code reader on their smart phone.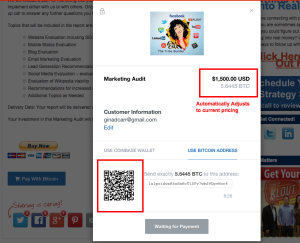 After scanning the QR code, the smart phone asks if you indeed want to send a certain amount of Bitcoin to the address that pops up in their phone.  This corresponds to my Bitcoin wallet address that is ready to receive payments.
After clicking SEND, the Bitcoin goes through a validation process that is much faster and more efficient than the current system of paying via credit cards.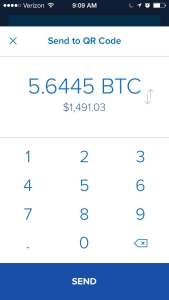 To set up this BItcion button, I simply selected the MERCHANT > TOOLS option inside my Coinbase account.  Most of this is very straightforward – what type of button do you want, what is your item called, etc.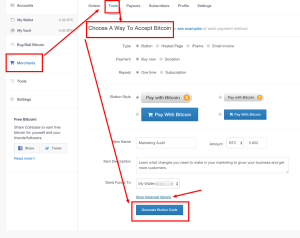 The only "tricky" part is that you must determine how much you want to charge in Bitcoin based on today's Bitcoin to US Dollar rate of exchange.  In my example, I charge $1500 USD for my Marketing Audit.  Since the value of Bitcoin was $265.39 when I was setting up this button, I selected 5.652 BTC as my payment amount.
This will adjust automatically depending on the value of Bitcoin versus the US Dollar when the purchase is made.
After completing the fields, click the "Generate Button Code" and paste the code into your web page.  It's simple!
Note:  In late September 2014, Paypal added Bitcoin to it's payment options.  I have not yet tried this.  However, I will try it soon and report back.  You will still need a Bitcoin wallet like Coinbase to use this option via Paypal.
Are you using crypto currency in your business?  I'd love to know how and why.   Please post in the comments below.  Thanks!
In related news….
An exciting new book about crypto currencies just came out today. It is written by Wall Street Journal finance reporters Paul Vigna and Michael J. Casey.  I think you will like it. (Affiliate link to Amazon.)
And, if you'd like help with marketing your book or business, book a free strategy session with me today!
Notice:  This post contains affiliate links for products and services I think my readers need to know about.  If a purchase is made through an affiliate link, Gina Carr may be compensated.

Gina Carr works with business leaders who want to get more great reviews and fewer bad ones. A serial entrepreneur and business growth expert, she has an MBA from the Harvard Business School and an engineering degree from Georgia Tech. Gina is the co-author of the McGraw-Hill book, Klout Matters - How to Engage Customers, Increase Digital Influence, and Raise Your Klout Score for Success. Schedule a free strategy session today to learn easy ways for you to get more great reviews ... and, more great customers! www.ginacarr.com/strategy-session.

Latest posts by Gina Carr (see all)
Filed Under: Bitcoin • Book Marketing
Comments (0)