By Gina Carr with Comments 2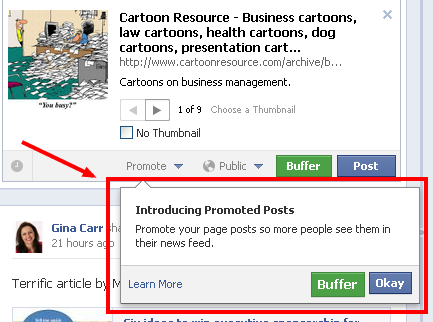 Anyone who has a Facebook Page knows how hard it is to get people to visit their page.  Facebook has just made that a lot easier – for a price – with Promoted Posts.
Facebook has just rolled out the new feature, Promoted Posts, which allow you to pay to get increased exposure for your posts.   This means that your posts are much more likely to get seen by the people who have liked your Page.
This will happen because Facebook will keep the Promoted Post in the Newsfeed of your fans for up to 3 days.  Currently, you are lucky if you post stays in a fan's Newsfeed for even a few hours.
Much of the time, Facebook Page posts don't get into your fans' Newsfeeds at all.
If those fans interact with the post (comment, like, or share it), then their friends might see that.  Thus, your page can attract the attention of millions more people.
This is very good news.  Currently, Facebook Page posts are at the mercy of Facebook's Edgerank algorithm to determine which posts go into your fans' Newsfeeds.  This levels the playing field and creates an additional very powerful communication channel.
I first heard about this months ago.   I've been anxiously watching for it to become reality.
Minimum post pricing varies according to the number of fans you have.  I've seen as little as $5 for some of the pages I manage.
In other countries, they have made this feature available to personal posts from personal profiles as well.  This would be interesting for a number of people.
This article tells you everything you need to know:
Facebook Debuts *Promoted Posts* | Facebook Advertising Tips
To try it, select the PROMOTE option which is to the left of the POST button on the bottom of the posting area.
Please let me know how Promoted Posts work out for you.
Gina Carr is an Entrepreneur, Speaker and Marketing Consultant who works with CEOs and Thought Leaders to leverage social media marketing for more publicity, profits and success. Combining her street-smarts learned as a publisher and small business owner with her book-smarts learned at the Harvard Business School (MBA 1990) and Georgia Tech (BIE 1984), Gina helps business owners turn great ideas into profitable money-making machines.

Gina Carr works with business leaders who want to get more great reviews and fewer bad ones. A serial entrepreneur and business growth expert, she has an MBA from the Harvard Business School and an engineering degree from Georgia Tech. Gina is the co-author of the McGraw-Hill book, Klout Matters - How to Engage Customers, Increase Digital Influence, and Raise Your Klout Score for Success. Schedule a free strategy session today to learn easy ways for you to get more great reviews ... and, more great customers! www.ginacarr.com/strategy-session.

Latest posts by Gina Carr (see all)
Filed Under: Uncategorized
Comments (2)