By Gina Carr with Comments 2
Facebook quietly rolled out a powerful new feature last week:  Facebook Offers.  This coupon-type service has the potential to be a significant source of increased revenue for businesses.  It also has the potential to hurt a business if too many people claim the Offer too quickly.  Business owners need to take advantage of this opportunity but to roll promotions out carefully so as not to get overwhelmed.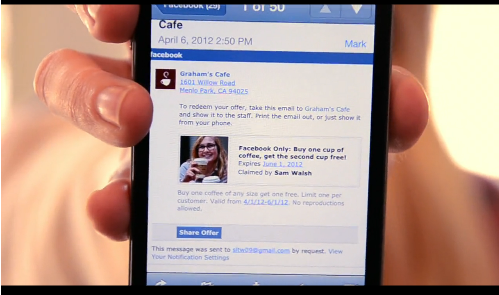 Facebook Offers will enable businesses to connect with their customers in a way that is easy, direct, valuable, and free.  This is quite possibly one of the best things to happen to business owners.  I predict that many businesses will see great benefit from this immediately.  Did I mention that this is FREE?!
What are they? Facebook Offers are essentially online coupons that enable Facebook users to receive discounts from brands and businesses they care about.  This is a revamp of the Facebook Deals feature.
Facebook Deals required a person to go to the physical location in order to redeem the deals.    Facebook Offers do not require a physical location check-in to redeem the deals. This is a big plus for Offers.
These offers are great for businesses because they are free, simple to create, automatically distributed, and have the potential to go viral quickly.  Businesses should be careful as they roll out offers.  These have the potential to be redeemed by many more people than the business can handle.
These offers are great for individuals because they are very easy to access – they appear right in a person's newsfeed – and they are easy to redeem – they can just be presented at the business via a mobile phone.
If a person is annoyed with Offers, they can click to hide offers from a specific company or they can unlike the page that sent them.
I saw one of these come through in the testing period from Chili's.  I thought it was an awesome way to benefit me as a customer.  I shared it with several friends and I'm sure they shared it with others.
If a person wants to keep the offers they have redeemed private, that option is available.  Facebook asks you if posting the offer to your wall is okay.  If so, you can choose how public you want to make it – to everyone, just your friends, or other options.
Offers are not available to all businesses yet.  To see if you have this option, look at the sharing tool in the top of your Page's timeline.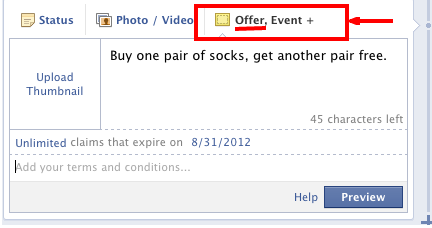 If you don't have this option, you can make a request to the Facebook team by clicking here to go to the request form.
If you do have this capability, the design requirements are very simple:  the text is limited to 90 characters; the image is 90 x 90 pixels (larger photos will be cropped); terms and conditions are limited to 900 characters.
To learn more about how you as a business owner can take advantage of Facebook Offers, click here  to go to the Facebook Help for Page Administrators.
Related articles

Gina Carr works with business leaders who want to get more great reviews and fewer bad ones. A serial entrepreneur and business growth expert, she has an MBA from the Harvard Business School and an engineering degree from Georgia Tech. Gina is the co-author of the McGraw-Hill book, Klout Matters - How to Engage Customers, Increase Digital Influence, and Raise Your Klout Score for Success. Schedule a free strategy session today to learn easy ways for you to get more great reviews ... and, more great customers! www.ginacarr.com/strategy-session.

Latest posts by Gina Carr (see all)
Filed Under: Uncategorized
Comments (2)