By Gina Carr with Comments 2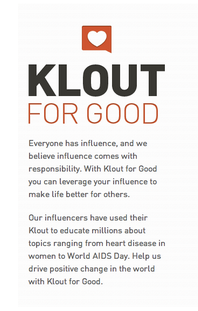 I'm a big believer in the concept of the Double Bottom Line – doing things that are good for business AND good for the world.
"Klout for Good" is a great example of this concept in action.
The print on the picture is a little hard to read so I'll share it with you:
"Everyone has influence, and we believe influence comes with responsiblity.  With Klout for Good you can leverage your influence to make life better for others.
Our influencers have used their Klout to educate millions about topics ranging from heart disease in women to World AIDS Day.  Help us drive positive change in the world with Klout for Good."
I think Klout is putting together the right components to become a very successful company – a service that is needed, the ability to leverage technology to deliver that service, and a focus on the double bottom line.
To learn more about what Klout is doing to make the world a better place, visit: http://corp.klout.com/blog/category/klout-for-good/
Related Articles
Filed Under: Cause Marketing • Klout • Uncategorized
About the Author: Gina Carr is an Entrepreneur, Speaker and Marketing Consultant who works with CEOs and Thought Leaders to leverage social media marketing for more publicity, profits and success. Combining her street-smarts learned as a small business owner with her book-smarts learned at the Harvard Business School and Georgia Tech, Gina helps business owners turn great ideas into profitable money-making machines. Gina is known as The Tribe Builder - helping passionate people build powerful tribes of raving fans for their business or non-profit.