By Gina Carr with Comments 0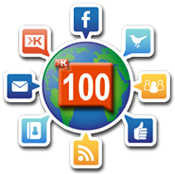 Klout is an important measure of online influence.  Though still in beta, Klout offers up very interesting information about who is influential online.
I recently came across this article by Mark O'Neill which gives  a great explanation of Klout.
Do You Know How Much Klout You Have? by Mark O'Neill
"Simply put, on the web, influence is valuable currency. The higher your influence, the more people will turn to you for help, advice, recommendations and more. The higher your influence, the more likely it is that companies will turn to you with their latest products for endorsements, because they know you have the followers to potentially turn their products into successful items."
Read the full article at Ecommercebytes.com Do You Know How Much Klout You Have?
Related articles
Filed Under: Klout • Uncategorized
About the Author: Gina Carr is an Entrepreneur, Speaker and Marketing Consultant who works with CEOs and Thought Leaders to leverage social media marketing for more publicity, profits and success. Combining her street-smarts learned as a small business owner with her book-smarts learned at the Harvard Business School and Georgia Tech, Gina helps business owners turn great ideas into profitable money-making machines. Gina is known as The Tribe Builder - helping passionate people build powerful tribes of raving fans for their business or non-profit.